Megan has loved music ever since she was little and her mom and dad took her to family music classes! Her mother swears she is responsible for all musical talent because of singing to and playing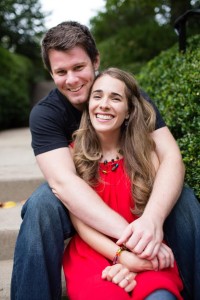 music for Megan while she was in the womb. Growing up, life was full of fun as Megan sang and danced with her sisters, learned piano and guitar, discovered a love for theater, wrote poems and stories, and was active in the youth praise band at church. These rich experiences shaped her life and gave her confidence and courage to pursue a variety of passions!  After two years at New York University studying journalism, Megan transferred to Northern Kentucky University. She graduated in 2009 with three Bachelor's Degrees in Theater, English (Creative Writing Emphasis), and Spanish. From being a summer church camp counselor to a long-term substitute teacher, Megan has had a lot of different work experiences but they have all revolved around teaching and kids.
Megan has taught private music lessons and group drama classes at Bowman Music and Creative Outlet since 2009, and loved serving as middle school youth director at Hebron Lutheran Church from 2010-2014. Megan married her hunky husband Matthew Moss in September 2014 and they are having a blast being married and building their life! Megan loves teaching Musikgarten classes because it is a joy to partner with parents in helping their children discover their inherent musicality and build life-long memories.
Megan teaches a variety of classes throughout the week, but mainly focuses on toddlers and preschoolers.