Thanks for your interest in music classes for your child! We know you want the best for your child, and we work very hard to provide classes that are the highest quality, and yet remain affordable.
For each class you have two payment options.
1) You may pay up-front for the full year of classes. This is a slightly discounted rate, and is great for people who want to pay one time and forget about it. To do this, please contact us!
2) You may sign up for automatic withdrawal and we will debit your account on the first of each month. Register on-line and you will automatically be set up in this program. This is a great option for families who want to spread out their payments for cash-flow or budgetary reasons. It also works well for new families who want to try the classes out for a month or two before committing to the full year. You may cancel anytime throughout the year with 30 days notice! If you prefer to pay by check, I am happy to accept post-dated checks in lieu of automatic withdrawal.
IMPORTANT: Every family must pay a $40 materials fee twice a year — once upon registering and once in January. With the materials fee you will receive all the required class materials, including a digital copy of the music we use in class, a parent book of adaptations and extensions of classroom activities, and a small instrument or other materials (depending on the class). Please note, when you register on-line you will be charged a this materials fee, then your 1st month's tuition will come out on September 1st.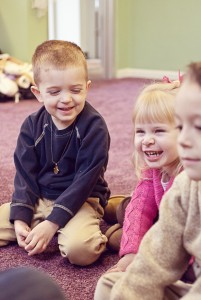 Baby, Toddler and Family classes (30 minutes, weekly)
Year (materials included): $495
Monthly (materials not included): $55
Preschool Classes (45 minutes, weekly)
Year (materials included): $535
Monthly (materials not included): $60
***In addition to the 30 or 45 minute instruction time in our baby, toddler and preschool classes, the studio will be open for free instrument and book play for 15 minutes before class and 15 minutes after class. We will regularly rotate high quality, simple instruments and books for your family to enjoy at your leisure. ********
Pre-Piano and Piano Classes (60 minutes, weekly)
Year (materials included): $570
Monthly (materials not included): $65
Classes begin September 12! Register now to reserve your spot!
F.A.Q.'s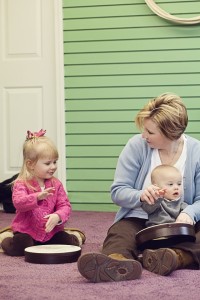 1) What about siblings? We want your WHOLE family to experience music class, so we have generous sibling discounts. Siblings receive a 15% discount on all classes.
In addition, we are placing a cap on sibling tuition. No matter what classes you are in and no matter how many children are in your family, your monthly tuition rate is capped at $150.
This discount should show up automatically when you register on-line, but if you want to pay in full for the year, please contact us and I will help you out.
2) Why is there now a registration fee? Our registration fee is, unfortunately, something we had to add this year. I used to be able to absorb the cost of family materials, but those costs have been rising and it is no longer sustainable. Sorry about that! If you have questions or concerns about it, please get in touch. I'd hate for it to be a deal breaker.
3) What about snow days? We do not provide additional classes as make-ups as a general rule.  Fortunately, we are now offering Baby, Toddler and Preschool classes just about every day, Monday to Thursday, and we have a variety of evening classes. If we have a snow day, we encourage you to attend another class that week, even if your child is outside of the age range. For our pre-piano and piano students, we will do our best to make up excessive snow days, perhaps with a concert day or other combined event.
4) A year is a long time. What will happen when my baby is too old for her class? 
No problem! One of the benefits of our new structure is that it is very easy to shift children from one class to another as needed. Once your baby is a year and walking well, we can bump him/her up to one of the toddler classes. Once your toddler is 3 and we all decide he/she is ready, we can move him up to one of the preschool classes. It is very easy to move children around as needed throughout the year.
5) I really don't want to do automatic withdrawal. Is that the only option? If you would prefer to pay month by month, no problem! I can bill you monthly, but I do have to add a $5 monthly fee to pay for account maintenance. A better option would probably be to send in 8 post dated checks for the year. If you choose to cancel, I promise to destroy them. I just need 30 days notice.
6) Is my account information safe? Absolutely! We are using Vantiv to process automatic withdrawals. They are completely insured, with fraud protection, etc. See our Privacy Policy here.  For on-line registrations I never actually see your card information.
7) Do you offer refunds? Sorry, we do not offer refunds once you have paid. If you are not sure, though, please come try a class for free before registering! You are also welcome to switch classes at anytime, and, in special circumstances, I will refund a credit to your account to be used for future classes. You may also cancel your classes at anytime.
8) Why haven't you answered my question? Did I miss one? Sorry about that! Let me know what you are wondering about, and I will get back to you as soon as I can! Contact Elizabeth here.