Registration is now open for our 2017 summer classes! Our popular punch cards are back, so build your own schedule of musical fun with us this summer!
Are you looking for the perfect summer activity for your kids? Maybe you need a summer class for your busy toddler. We've got you covered!
This summer create your own schedule! Our flexible summer classes allow you to take as much time off as you like for vacations or other plans, and still provide your child with fabulous music enrichment all season long!
All of our summer classes are "Family Style" (6 months – 4 years, with a caregiver. Older and younger siblings are welcome to tag-along). We are offering a number of different punch cards which you can purchase, and then come as it's convenient for your family. You may come multiple times a week or just once or twice a month. There is no need to commit to a certain day or time. Just choose the number of classes you want and join the fun!
Summer Class Schedule:
(All classes are for children 6 months – 4 years and their caregiver. Children under 6 months attend for free all summer.)
Mondays, 10:00-10:30 AM

Mondays, 6:00-6:30 PM (Sorry — this class was combined with the Tuesday evening class due to low attendance.)
Tuesdays, 10:00-10:30AM
Tuesdays, 6:00-6:30 PM
Wednesdays 10:00-10:30 AM
Thursdays, 10:00-10:30 AM
Classes run from June 6-August 11 (10 weeks). Attend whenever you like!

Each class includes 15 minutes of optional free play before and after class. We will have books, instruments, and music, so your child can explore and you can visit with other parents!
Punch Card Pricing:

This summer, choose your class options. Join us all summer long or just for the portion that suits you! You may come multiple times a week or just once or twice a month. 
You do not have to pay anything right now! After you reserve your punch card I will send you an invoice which needs to be paid by June 1st.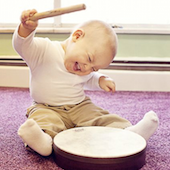 Each card includes class materials and may be shared within families. All classes must be used during our summer session (June 6-August 11), and we cannot give refunds for unused classes. You are welcome to gift unused classes to a friend if plans change, or purchase a second card later in the summer if needed.
Choose:
Unlimited Family!: $230 (You and any children in your household may come as often as you like all summer!)
Unlimited, Single Child!: $200 (You and one child can come as often as you like all summer!)
16 Classes: $175
14 Classes: $155
10 Classes: $135
8 Classes: $120
6 Classes: $100
4 Classes: $80
Drop-In Rate: $15/Class (No need to register, but no materials are included)
Do you need a different number of classes? Have questions about how summer works? Contact us and we will help you out!
Reserve Your Punch Card Here!
(After logging in or creating an account, please click  "Buy Class Cards" in the lower left hand corner)
We will hold on to your card for you at the studio until your first class.
F.A.Q's About Our Summer Classes
How do I sign up? To sign up for our summer program, you just need to decide, based on your schedule, how many classes you would like to attend. Then, purchase the corresponding punch card. You do NOT need to sign up for a specific day or time. All our summer classes are drop-in style. Your punch card will be waiting for you at your first class.
How does this work with siblings? All of our cards (except for unlimited, single child) can be shared within your family. So, if you have a 1 year old and a 3 year old and would like to come 8 times, you should purchase a 16 punch card. Any siblings under 6 months or over 4 are welcome to tag-along at no charge.
What is included in my cost? You will receive the number of classes you bought, a parent book, a digital download of the music we are using in class (please let me know if you prefer a CD) and a simple instrument for each child participating.
Who is teaching my class? Summer is a great time to meet all of our teachers! Miss Megan, Miss Leah and Miss Anna will be rotating throughout the weeks, and Miss Elizabeth will be filling in as needed. If your child is sensitive to changing teachers, please let us know and we can get you a detailed schedule so you have time to prepare your little one.
Can I get a refund? Sorry, we are unable to offer refunds at this time. You are welcome to transfer unused classes to a friend, though! If you aren't sure about our program, we hope you will come try a class for free before committing. Please contact us here to set that up. All classes must be used within the summer framework.
How soon do I need to sign up? You can register anytime! We hope you will register soon, though, so we can plan accordingly.
Why didn't you answer my question? Did I miss you? Sorry about that! You might find your answer on our general FAQ's page, or feel free to contact us here with further questions!